Leave a comment
November 13, 2013 by NowhereButPop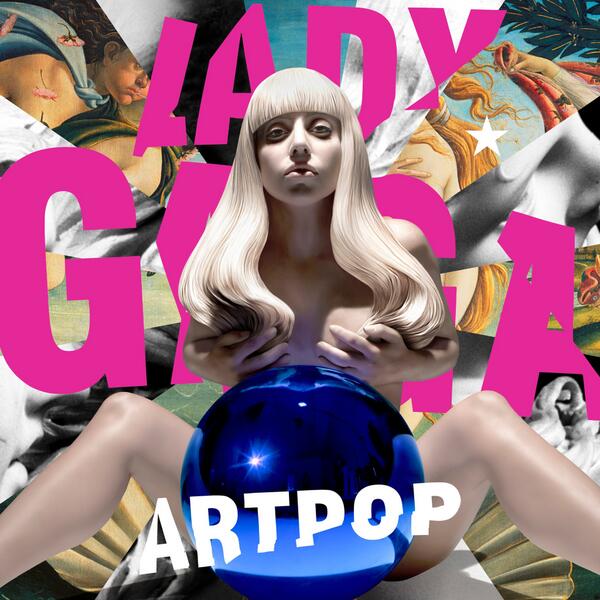 "Because I knew that if I wanted to grow, if I really wanted to innovate from the inside, I had to do something that was almost impossible for me."-Lady Gaga
Remember a few years ago when everyone in America was freaking out about the impending debt ceiling crisis and Congress created a bipartisan super committee?  Well the super committee failed to come up with a solution and instead of dealing with the national debt, Congress decided to basically push the ceiling deadline back a few years.  It was a short term solution that ideally would give Congress enough time to aptly come up with a responsible solution to the debt crisis.  That's exactly what Lady Gaga's newest album Artpop is.  It's the sound of Lady Gaga borrowing more time from us.
Artpop is the combination of her previous efforts The Fame and Born This Way.  There are songs that sound like they were outtakes from The Fame ("G.U.Y.", "Applause", and "Sexxx Dreams"), and there are songs that sound like they would fit better on Born This Way ("Aura", "Venus", and "Dope").  Lady Gaga makes (good) pop music, we know this.  She also writes songs about sex, hedonism, and empowerment, we know this as well.  These facts are never more evident than on Artpop, and that is the problem.  Artpop is Lady Gaga doing a cover album of Lady Gaga songs.
Songs like "Venus" and "G.U.Y." are lyrical descriptions of this new Aphrodite-esque alter-ego Gaga has constructed for herself.  "Venus" is our introduction to this new, amorous, alien persona and "G.U.Y." is essentially her mission statement.  She is preoccupied with sex, but more accurately, power and self empowerment that comes through sex and sexual control.  From these two songs it almost sounds like Artpop was originally supposed to be Gaga's version of Ziggy Stardust mixed in with some Greek mythology.
"Aura", despite being the album opener, serves more as a prologue, since the second track "Venus" is a more fitting introduction to Gaga's latest endeavor.  "Venus" is the creation of a new persona for Stefani Germanotta, while "Aura" is the assassination of her old persona, the "enigmatic popstar" as she describes it in the songs' lyrics.  From the get go Lady Gaga is telling us, nay, promising us that this album will be something new, brought to us by someone new.[1]  Unfortunately, for the most part this is a promise that goes unfulfilled, as the album, while being a solid and sound pop album, isn't anything new and interesting from something who is quite capable of providing such.  It's everything we've come to expect from Gaga, "Aura" be damned.
If Artpop is anything, it's a self commentary of Lady Gaga by herself.  It's a comment on everything she's gone through since she came onto the scene in 2008.  As a result the album as a whole is much darker than her other dark album The Fame Monster.  "Do What You Want", Gaga's best vocal performance on the album is one such song that describes her tumultuous relationship with the press.  By deferring to the classical dichotomy of body and mind Lady Gaga exclaims "You can't have my heart, and you won't use my mind, but do what you want with my body".  We can use and abuse Lady Gaga anyway we want and make her into anything we want her to be, but it's not sincere because that's not who and what she is, or at the very least what she thinks she is.  Even though the press has had a field day with Gaga over the past year, they won't get to her or change who she is.
The next two songs, the eponymous "Artpop" and  "Swine" deal with similar themes of media conflict and the difference between Lady Gaga, and how people portray Lady Gaga.  While the former is more of a declaration to make something (I don't know what) truly transcendent, the latter is more of a self deprecating swipe at the person that her drug addiction forced her to become with lyrics like "Maybe I should have a little more just to stay out of my mind, cuz it's when I'm not thinking with you, that I act like a swine, act like a swine, act like a swine".  The title track ultimately fails because it's not telling us anything we don't already know.  Lady Gaga wants to be an artist in the truest sense of the world.  On Born This Way she wanted to do something on the same level as Like A Prayer, with Artpop, Lady Gaga wants to recreate "The Persistence of Memory".
The album works in blocks where every couple of songs are connected by common themes and ideas.  The first three tracks set up the stage for what is to come in that "Aura" kills off the old Lady Gaga, "Venus" introduces us to a new persona of Lady Gaga, and "G.U.Y." states what her goal is, much in the same vain as "Starman" is for Ziggy Stardust.  Skipping over two filler tracks in "Sexxx Dreams" and "Jewels N' Drugs" and "Manicure" are the next trio of songs "Do What You Want", "Artpop" and "Swine" all dealing with the pressures that Gaga faces and how she reacts to them.
The next part of the album deals with hedonism and superficiality, two concepts that she has already fully and sufficiently explored in pretty much all of her previous albums.  Even though songs like "Donatella" and "Fashion!" start off very promisingly, the former with an odd opening monologue and the latter with a cool piano intro, both fizz out after realizing that even though they are above average pop songs, they don't really give us anything we didn't already have from her.  It's also worth noting that the bassline to "Fashion!" is strikingly familiar to Madonna's "Holiday".  Scratching the surface, both songs again touch upon the idea of transformation that has become so prevalent on the album.  It's just more of the same thing, with a different name.
The final leg of the album is also the strongest part of the album, and if the rest of the album was as introspective and less self-serious, it could have become that transcendent work of art that she has tried twice now to create.  "Dope" is Lady Gaga's most mature song.  In fact, I don't think it's even a Lady Gaga song, but a Stefani Germanotta song.  It's on "Dope" that it feels like for the very first time on Artpop that we get to see "the girl behind the aura" that she promised us we'd see back in "Aura".  Dealing with her own troubles in trying to get clean and sober, "Dope" represents sincerity and a musical capability that is greater than anything else that she had put together on Artpop.  This should have been her Like a Prayer, where like Madonna did, she could have and should have looked at herself as Stefani Germanotta, and not create a new facet of the Gaga personality.
Closing out the album are two anthems of empowerment that harkens back to 2011's Born This Way.  "Gypsy", the penultimate track, and sequel to "Born This Way" is the sound of Lady Gaga realizing that even though she is Lady Gaga, she is also Stefani Germanotta and that Stefani has to get out more often.  "I don't wanna be alone forever, but I can be tonight
I don't wanna be alone forever, but I love gypsy life" sums up that underneath it all, there still is Stefani Germanotta, and it gives hope that one day Stefani can make an album of her own.
The closing track "Applause" is a well constructed pop song that was a good choice as the album's lead single.  But as a closing track it ultimately fails.  Because we've been so inundated and overexposed to Lady Gaga and what she is as a theme of fame and grandiosity, "Applause" falls flat after 14 previous tracks of repetitive concepts and half hearted sincerity.  Instead of leaving us wanting more, my first impression after the initial listen of the full album was that she needs to do something different and more accessible for her next album.  But already, after over 50 songs across four albums consisting of similar themes and lyrics, we already know all we need to know about Lady Gaga.
Despite being a solid album with more than a handful of plus cuts, Artpop fails in both intent and realization.  You can tell though, that she really tried to do something different, but in most instances the songs come off as a more concentrated form of her previous albums albeit with much darker lyrics.  Instead of doing a 180, which is what she should have done, and what she knew she had to do, Artpop feels like she turned only 90 degrees and then turned around.  She has to explore different musical genres and she has to write songs that don't deal with sex, hedonism, fame, or farfetched concepts of how inspiring and artful her music is, because the only person who thinks that at this point is her.
On Artpop, there's good stuff on the album, namely the final three tracks, "Do What You Want" and "Fashion!", but it isn't enough to sustain the album as a whole.  What there is too much of, is what we didn't need from her anymore.  We don't need Lady Gaga to tell us how transcendent and inimitable her music is, especially when she does it as aggressively and overtly as she does on Artpop.  It works to her distinct disadvantage when she has to annunciate across several tracks that this is her bid for artistic credibility.
Lady Gaga doesn't mean anything as a person; she's so concerned with becoming a living theme and ideal that she has almost forsaken herself as a woman in trying to attain some artistic nirvana.  She has to show us her humanity and illustrate to us that there is a person behind the veil who we can connect to or else we'll stop caring, as we already have begun to do.  I believe that Lady Gaga has potential, and a lot of it, and I'm not just saying that because I'm more attracted to her than I objectively should be or because we share the same birthday.  She's shown that she has the musical capability and the artistic range to do something great.  But if she continues to write and record the same kinds of albums, Lady Gaga really will go bye-bye.
---
[1] Ironically enough, the song sounds incredibly similar to Born This Ways "Americano"